All has been quiet on the Eastern Front so there hasn't been much to blog about, sadly. But we have had two very fun dinners in the last week I have failed to mention.
Monday, MLK Day, we invited our upstairs neighbors over for drinks. We honestly hadn't seen them since late Oct/early Nov, a ridiculous amount of time for someone who lives the floor above us. So we were really looking forward to the reunion. I was really looking forward to it as I haven't had a chance to entertain since around Halloween and was just itching for an excuse to do so.
So I went with a "Let's pretend we are on the Amalfi Coast even through its 30 degrees outside" theme. I made peach and mango bellinis, salmon and lemon ceviche, and prosciutto-wrapped melon and it was all pretty tasty.
I suck and forgot to take pictures of the bellini. I tend to prep 5 seconds before people actually come so its usually a mad dash to get things to the table, let alone take pictures. Its still a work in progress, this whole blogger thing.
____
Tuesday and Wednesday brought no fun but last night, after Bill and I played rescue mission at his Conshohocken rental house with a broken furnace, I hardly wanted to cook dinner. Luckily, a new restaurant had just opened up in our neighborhood and we decided to check it out. Fairmount has had four new restaurants open in the last few months, with one still to come, and my list of restaurants to check out is steadily speeding out of control (more on that in my next post). So it felt good to cross one off the list last night.
The name? La Calaca Feliz (which means "The Happy Skeleton" and is a reference to the iconic Dia De Los Muertos dressed-up skeletons you may have seen). The food? Duh. Mexican.
The space it took over was an semi-Italian spot that Bill and I had ordered out from once. We popped our heads in when we picked up our food but it didn't look like much to write home about. But La Calaca Feliz was a surprise. The little restaurant doesn't look like much from the outside, and even the small bar area, while cute and colorful, didn't demand your attention. But the back room, the main room, was surprisingly interesting.
We took a series of pictures but thanks to our lack of real camera and the candle-lit backroom, I'll spare you the iPhone pics and just steal a few real images.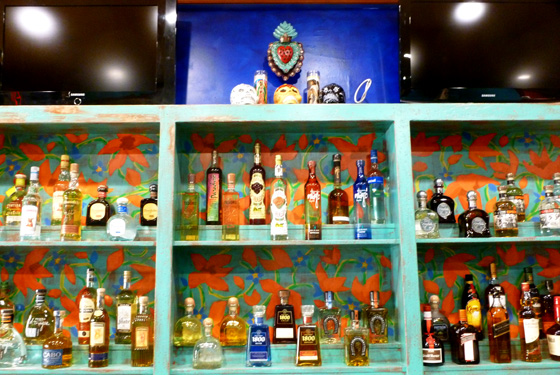 No thanks to our shitty iPhone pics. But at least here you can get a feel for the cool inlaid copper ceiling, the interesting angles and windows, and the beautiful Moroccan stars.
The whole restaurant was painted in massive murals, all with Dia De Los Muertos themes, but we got to sit next to the coolest one.
Bill and I both got enchiladas, mine with seafood and his with chicken. We split a bowl of guac and I had a yummy, pink, virgin margarita.
All in all, the food wasn't out of this world, although, to be fair, we ordered 'safe' items. But it is a very refreshing change for the Fairmount neighborhood, which thus far is stuffed to the brim with gastropubs and health-conscious fare. Its nice to have a little color and culinary flare added in and only a few blocks away.